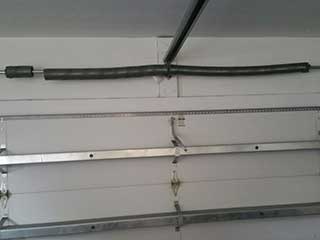 Your garage door springs are an essential part of your system as they provide the necessary force to counterbalance the door's weight. Because they are under constant tension, your springs ought to be maintained and looked after regularly. Still, even with frequent maintenance in place, these components will eventually wear to the point of breaking and will need to be replaced by a professional. This is where our team jumps in.
Let Us Handle the Replacement
For your own safety, please reconsider your decision to replace the springs in your garage door system yourself. These components are extremely dangerous to work with as they're under constant pressure and can come flying off at high speed if not handled with expertise. Our highly trained technicians have encountered the most difficult of jobs across Aurora and have the right tools and experience to replace your springs with competence and safety in mind.
High-Quality Replacement Parts
Just like car tires are rated by miles, garage door springs in your garage door system are rated by cycles they've completed. A standard set will last roughly 10,000 cycles before one of the springs give in. Our highly-trained team of technicians will not only install your new set of springs to perfection, but they'll also make sure to equip you with modern, high-grade springs that can last more cycles than usual, extending their lifespan by more than half!
In Safe Hands with Our Technicians
Our technicians are the cornerstone of our business and our proudest asset. We wouldn't be able to build a strong reputation with our highly-trained, courteous crew. They treat each of our customers with respect and approach every job, big or small, with the same mindset - to fix the issue and get your garage door back in perfect condition.
Call Garage Door Repair, Aurora today for all your garage door spring repair and replacement concerns. We're your team for the job.
Answers To Common Questions
What should I do if my garage door spring breaks?
The first thing to do is to make sure you don't try to use the door. A broken garage door spring is no joke and you should avoid trying to handle it if you lack the right tools or experience. Without the spring, moving the garage door will be much harder, and sometimes even impossible. Since this door can weigh more than a heavyweight boxer, it's better not to mess with it and to call a professional spring repair specialists. Even if you consider yourself a garage door DIY enthusiast, a broken spring shouldn't be where you earn your stripes.
How long do garage door springs last?
Garage door spring service lives are measured in cycles, with each cycle representing one full opening and closing of the door. As a general rule, extension springs tend to last for about five thousand cycles, which tends to be around four to seven years. Torsion springs usually last for twice as long, i.e. ten thousand cycles, and ten to fifteen years, give or take. The service life expectancy of your garage door springs depends on how much you use the door, but also how well you take care of these crucial parts. Regular lubrication and tension adjustments will help reduce wear and tear and make the springs last a lot longer than they otherwise would. Of course, while lubricating a garage door spring is something you can do yourself, when it comes to tension adjustment, or replacement, you better leave it to the pros.
Looking for more? We also offer:

Garage Door Roller Repair

Broken Cable Replacement

Part Replacement & Repair

Garage Door Receiver Repair